January challenges our Felting Forum members to explore the many feelings of the color blue. We have so many wonderful and creative interpretations.

Enjoy the spectacular Blues!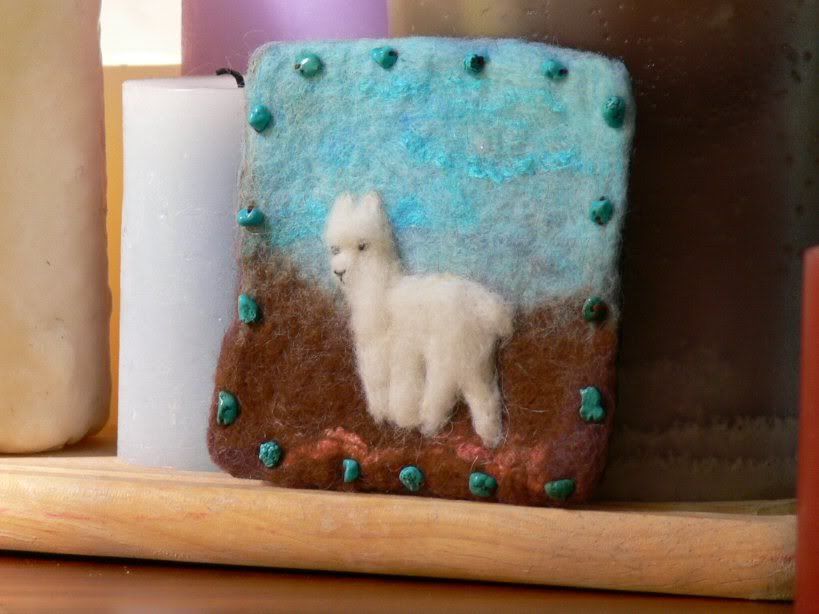 Tess
Alpaca Cria.
3 1/2 x 3 1/2
Merino, silks, Alpaca fibre genuine turquoise beads.
wet and needlefelted.
2/1/09
Tess Mallett (asset crafts)
Cytel
Under the deep blue ocean


about 7"x9"
wool, silk, polyester flash
Completed Jan 3rd 2009
artist: Cytel Snyder
wetfelted background, with needlefelted foreground.
Visit me on Flickr :
Cytel's Art
Visit my Etsy Shop:
Oak Forest Art Works
Ona
Title: Tropical Trial and Error
Dimensions: approx. 6.5" diam.
Techniques & Materials Used: wetfelted with merino
Date Created: jan 5th
Made by: Ona Peeters

ingermaaike
Title: Blue NE (cklace-sca) RF
Dimensions: 160cm long
Techniques & Materials Used: merino wool
Date Created: 07-01-09
http://www.ingermaaike.etsy.com
http://www.flickr.com/photos/ingermaaike2/
http://www.ingermaaike.nl
MTRuth -
Professional Member
Blue Moon
5"x8.5"
Machine Needle felted and wet felted; Hand dyed wool, metallic paint
01/10/09
Ruth Lane
http://ruthsfiberphotos.blogspot.com/
www.purplepomegranate.com
Pam de Groot
"Hat with Blue Flowers."
Hat sized
Merino wool with fabric flowers felted in.
Wet felted hat made on a resist with fabric additions and some beading.
Made 8/1/09
http://pamdegroot.blogspot.com/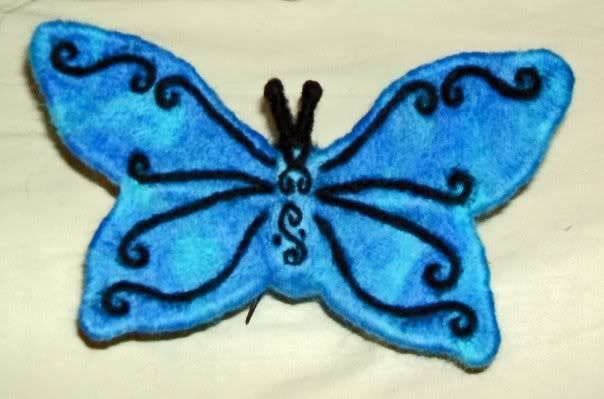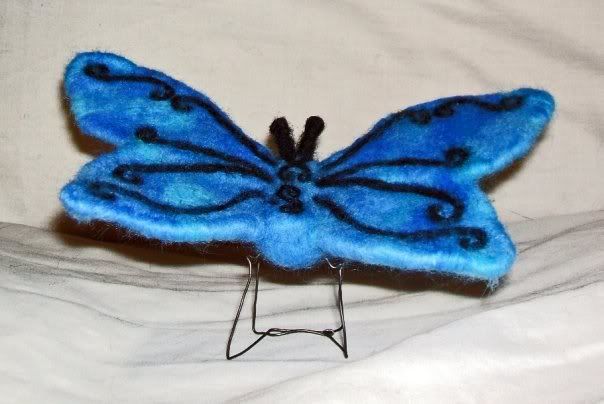 Cine
Title: BlueFly
Dimensions: Measures 7.5" across 4.25" tall & 4.25" wide
Techniques and Materials used: Blue needle-felted (100% wool) butterfly with black needle-felted (100% wool) detailing on wire (pipe-cleaner) armature.
Date Completed: Jan 13, 2009
Artist: Cine
danieliausmama
Daiva Houston
Tree and Birds tapestry
Created beginning of January, 2009
It is about 14 by 11 inches
I used mostly Merino wool, wet and needle felting

http://feltingfun.blogspot.com/
http://www.etsy.com/shop.php?user_id=5365187
http://www.flickr.com/photos/feltingme/
zed
Title: Blue Dog
Dimensions: 5.5x 7.25 inches
Techniques & Materials Used : Needlefelted with merino 64's on craft felt
Date completed: 14th January 2009
Artist: Zed

http://www.flickr.com/photos/zedster01
Shepherdess
Title: Business card holder
Size: 3.5"x4.5"
Materials: mixed breed colour blend wool, silk
Technique: wet felted bag, needle felt picture, hand spun silk
Date completed: January 15, 2009
Artist: Ann McElroy

Shepherds' Spring Farm
North Gower, Ontario, Canada
http://www.shepherdsspringfarm.ca/
edenwool
Scarlette Blue Horizon.
51.5 cm ( 20.2" ) x 18 cm ( 7" ). The measurement between snaps is 35 cm ( 13.8" ).
Wet felting. Merino wool, silk, vintage buttons, snaps Fall 2008.
Made by Edenwool in Canada.
http://www.jrjr.etsy.com
www.edenwool.com
TheFeltedChicken
Love Bird w/ Heart Balloon
6" tall, 4" long, 2 1/2" wide
Needle Felted - Corriedale wool w/ wire
January 14, 2009
FeltedChicken
check out my Flickr: www.flickr.com/photos/cprush13/
read my blog: http://feltedchicken.blogspot.com
look at my work: www.feltedchicken.etsy.com
email me: FeltedChicken@live.com
judelicious
30 x 35cm (12x14;)
Combined wet and needle felted tapestry with wet felted balls in australian merinos
Created Jan 7-17th 2009
by Judelicious felts
Go on! Just 'av a go!
http://www.flickr.com/photos/judeliciousfelts/
Val W

Mixed wool core c/w C1 flesh, unknown taupe fiber accent, Blue C1, and a unknown heather accent, all needle and dry felted, 13" seated.
Title: Turquoise Fantasy
Dimensions: App. 4" X 7"
Techniques & materials: needle felting : wool, wire, glue
Date Created: 1-17-09
coraldee
A Summer Day
4 1/2" high x 3 1/2" wide at the top.
Made of wool by needle felting. finished 1-20-09
http://Coraldee.etsy.com
http://Corky-Coraldee.blogspot.com
jeanm -
Supporting Member
Title:Alpaca Barack "created him today while watching our new president get inaugurated"
Dimensions: 3X5 inches
Technique & materials: Needlefelted...all wool, no wire
Date Created: January 20, 2009
Artist: Jean Melton
http://www.PictureTrail.com/jeanym
http://flickr.com/photos/11734102@N08/3005759752/
Feltfinland
Title Blue Prefelt
Dimensions 56x27 cms
Techniques & Materials Used Wet felted(only to prefelt) merino wool
Date Created 160109
Feltfinland
Title In the wind
Dimensions 36x45 cms
Techniques & Materials Used Navy finn wool mix background , prefelt leaf shapes - wet felted
Date Created 28.01.09
Artists Name Amanda
My website - www.feltfinland.com
My flickr photos - www.flickr.com/photos/feltfinland/
My blog - http://feltfinland.blogspot.com/
MrsG2003
13 x 11
Wet Felted
black alpaca fleece, saphire blue alpaca fleece, and added the dyed mohair locks.
SpringtimeDesigns
Title
: Kerry Blue Terrier
Dimensions
: 4.5" high x 5.5" long
Techniques & Materials Used
: Chenille stem armature; Needle felted natural colored Border Leicester/Corriedale/Cheviot cross wool over a Romney wool core for the body; natural black Alpaca for the beard & eyebrows; Glass eyes & Nose
Date Created
: January 2009
Artist
: Marilyn Jensen
novembersfyre

Title: Colorado Sky Goddess Spirit Doll
Dimensions: 6" inches by 4" inches (not including locks)
Techniques & Materials Used: She was needle felted from Merino with a little bit of Angelina. The locks are Romney lamb.
Date Created: January 21, 2009
Artists Name: Mary Beth Laire Callaghan (Novembersfyre)
http://www.novembersfyre.com
Tammy
Title:
"Peacock's Surroundings"
Dimensions:
7" X 9" X .25"
Techniques & Materials Used:
Single needle felted on wet felted background using 100% NZ Corriedale wool.
Date Created:
01-24-09
Artists Name:
Tammy T. Long
http://www.flickr.com/photos/hookandpoke/
RitaBlocksom
blue clutch bag.
royal blue prefelt from Back to Back Alpaca and a variety of rovings including alpaca and merino.
feltalive -
Community Partner
Li'l Janice Joplin
by Kay Petal
01/25/09
11" tall
Needle Felted Wool
Norwegian C1 over core wool
Hair - Cotswold and Mohair Locks
Felt Alive Wool Sculptures
Learn How to Felt Alive!!
My Felt Alive Flickr Photo Gallery
My Felt Alive YouTube Channel
Nicola Brown
Swirls of blue'
120mm high X 160mm diameter.
wet felted from merino and mulberry silk.
Monday 26th January
Artist: Nicola Brown
ollow the activities of a rural feltmaker by checking out http://www.clasheen.wordpress.com
Kaza -
Professional Member
Sour Grapes
Sept 2008
Her body(so to speak) is made from Alpaca, Her shawl is a blend of Alpaca /merino and her hair is merino with a blend of silk. She stands 7 inch high and she's still very cranky.
http://www.flickr.com/photos/felting_fever/
Kaza's Blog
gunillarehn
Title: EYE glasses case
Dimensions: approx. 3 x 6,5 inches
Techniques & Materials Used: case wetfelted of finewool and eyes needlefelted
Date Created: Jan 27th 2009
Made by: Gunilla Rehn Sweden
http://ullochkrull.se.nu/
My Flickr Photo Gallery
http://www.flickr.com/photos/feltangel/
CalicoCallie
Title: Santa Fe Sunset
Dimensions: pouch 4" x 4"
Technique: wet felt/resist, needlefelt, beading
Date: 01/06/09
kenleighacres
'Tweeter'
needle felted using merino top, shetland wool, and alpaca.
Dimensions are 2" x 3"
Date made - 1/10/09
Artist - Shannon Phifer (kenleighacres)
www.kenleigh-acres.com
www.kenleighacres.wordpress.com
teriann
- Professional Member
Title: Homeward Bound
Dimensions: 7 x 8
Technique: Needle Felted Alpaca Figures with Wet Felted Wool Clothes and saddle
Date: 01/28/09
teriann
- Professional Member
Title: Memory of Homer
Dimension: 4 1/2 x 5
Technique: Needle Felted Alpaca Schnauzer with Wet Felted Wool Coat.
Date: 01/28/09
http://www.tericanepa.com
viltk

Title: Blue heart...
Dimensions: weidth 9cm x hight 9 cm = 3.5 inches x 3.5 inch Thickness: 3cm =1.2 inch
Technique: Wet felted with merino fleece and wool
Date: 29 th of January 2009
My Shop: www.viltalakim.etsy.com
Jazicat
Title: Forget Mey Not... You Are Missed
Dimensions: 7" by 4"
Techinique: Petals and Root wet felted. Remaining needle felted.
Materials: Commericial corriedale and merino, border leceister locks, glass seed beads and crystal beads.
Date Completed: January 30, 2009
Jessica
That's it!! That sure didn't leave me feeling blue. FABULOUS ENTRIES Everyone!!!
Stay tuned for February's challenge as we explore the color
RED!