This months Challenge is creating something using Two different Techniques
Combine Wet Felting, Needle Felting or Machine Felting
ingermaaike


Title Felt and knit vest
Dimensions about europe and size 38
Techniques & Materials Used washing, carding,spinning,dyeing,knitting,felting
Date Created nearly completely finished in august 2009
http://www.ingermaaike.etsy.com/
http://www.flickr.com/photos/ingermaaike2/
http://www.ingermaaike.nl/

Tweedyshaw
Here is my "Sunshine Bag"
about 10 inches by 8 inches (or 25 x 20 cm -if I did the conversion right)
The bag is wet felted using a resist pattern. The same techique I used to make a pair of slippers. The sun is needle felted on to cover a thin spot.
Created in July, 2009 by
Bonnie Tweedy Shaw
http://www.flickr.com/photos/tweedyartunlimited/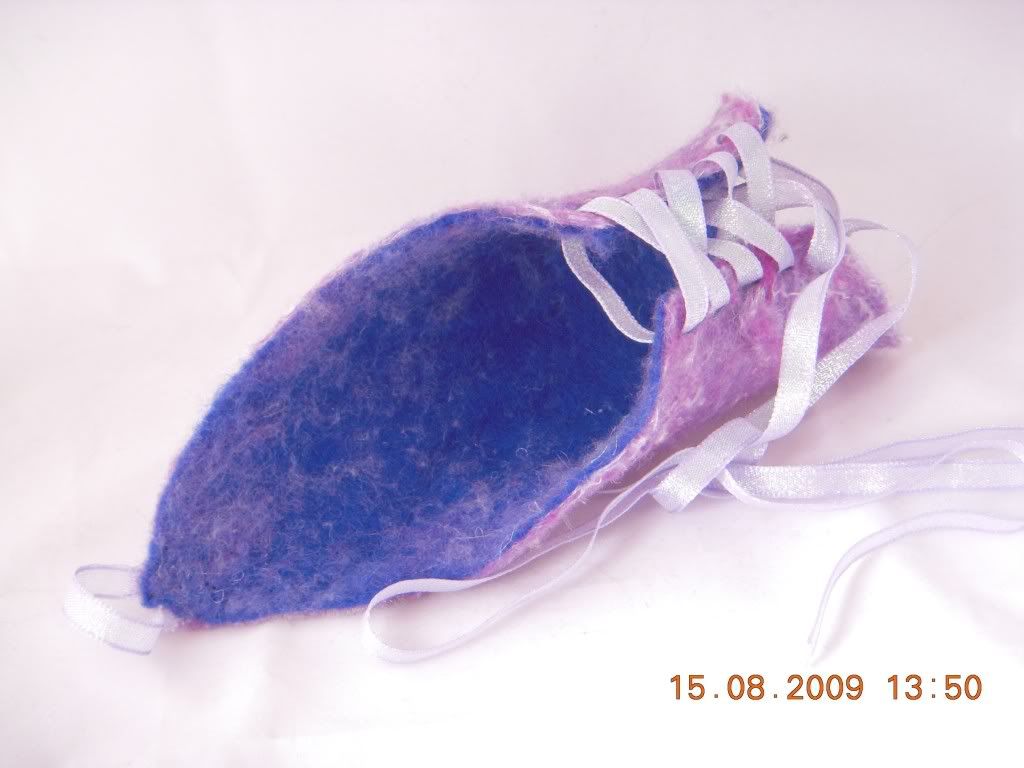 Ben Mcfuzzylugs
Nuno felted, then embroidered with seed beads and then needle felted onto felt (to try and keep some of the texture of the nuno felt
Its 3 inches by 8 inches
Then this
Nuno then needle felted - 8 inches by 8 inches
http://benmcfuzzylugs.blogspot.com/
gunknitter
Title : " Dosette-Box-cover"
Dimensions: 12 X 10 cm.
Techniques & Materials used: Wet felted and needle felted on top. Norwegian wool C1.
Date created : august 2009
Made by: gunknitter
http://www.flickr.com/photos/gunknitter/
http://gunknitter.blogspot.com/
judelicious
Title: The Rhythm of Life
Dimensions: 112 x 48cm (44x19) wallhanging
Materials and techniques used: Wet felted background in polwarth and corriedale, with needle felted hand spun merino
Created: August 2009
Artist: Judelicious felts
http://www.flickr.com/photos/judeliciousfelts/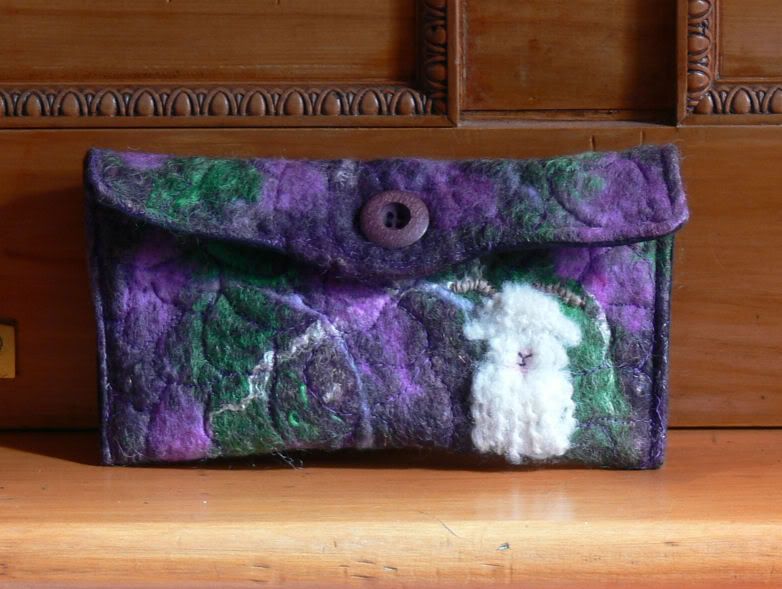 Tess
title: The Kid.
Dimensions: 71/2 x 4 inches.
Techniques: Wet felted with needlefelted Angora goat. Button hole closure.
Materials: Silk, Merino, dyed Mohair free motion sewing, wool for needle felting.
Date. finishing off details done 28th August 09
Made by : Tess
Jasmine
This rug/blanket weighs approximately 0.7kg. Approximate width 101.6cm (40"). Approximate length 134.6 cm (53"). I have used a combination of natural Merino wool, Shetland, Gotland and Blue faced Leicester wool in this project. the ragged edges that you can see in the pictures of this blanket hanging on the line are intentional. I wanted a rippled effect to continue throughout this piece. Nature does not hold too many straight edges. I also wanted to create a fleece style shape as the rug/blanket is 100% wool. The project was predominantly wet felted but I have also used needle felting to reinforce the edges, working with the natural flow and direction that the wool has taken. It is my first attempt at needle felting and I am pleased with needle felting as a medium.
http://natureswhispers.blogspot.com/
patdixie
Title - Field of Flowers
This piece is 15" x 16", the background is prefelt merino that I dyed. Stems and flowers are prefelts, stems wet felted to back ground, petals machine needle felted and needle felted. Grasses are various locks that are needle felted.
Completed by Pat Moore on August 28, 2009
Sheed-o
My first wedding dress, felted and other wise, that i've designed and created.
It's a nuno-felted dress using marino wool that we kettle dyed, as well as silk that was light blue, blue and chocolate.
Areas of the dress were also needle felted(for hemming and invisible sewing)
The top of the dress is adorned with freshwater pearls and swarovski crystals.
We put about 24 silver grommets in the back and laced it up using a 2inch wide natural silk ribbon that trailed along the ground.
In her hair and on the right side of her dress are two nuno felted flowers with the same freshwater pearls and swarovski crystals.
She was a dream! And the forest wedding made here look like a faire Princess!!
Title : Knotty Wedding dress & Hair Piece
Dimension : size 32(ish) dress (5 feet ish)
Techniques & Materials Used : Nuno-felted & needle felted - kettle dyed marino wool, silk, freshwater pearls, swarovski crystals
Date Created : August 1st
Artists Name : Mahshed Sheed-o Hooshmand
http://www.sheed-o.com/