July Challenge is Mixed Media, combining felting with another medium.
filz10a
This Vessel is the first larger Item I ever wetfelted. I felted it around a Balloon.
It hasn't got a title
It's about 25 cm in diamter
Inside I used grey merino? with colordots, Outside is Merino
I stiched the lines on with cotton and enhanced it with glass beads.
I made it this spring (march/april
http://filz10a.blogspot.com/
jeanm
Title: Chickadee on a Stump
Dimensions: about 6½" tall
Technique & materials: The stump I created in polymer clay and the chickadee is needle felted with a clay beak.
Date Created: The stump was a year or two ago and the bird in the last week.
Artist: Jean Melton
http://www.picturetrail.com/jeanym
Cytel
Title: From Fairy They Flew
Dimensions: each bird is about 12"
Technique & materials: Wetfelted bird, using wool and silk. Embroidered eyes, various yarns, threads silks and a rhinestone bejewed eye.
Date Created: July 2009
Artist: Cytel
http://cytels.blogspot.com/
http://www.flickr.com/photos/30212986@N02/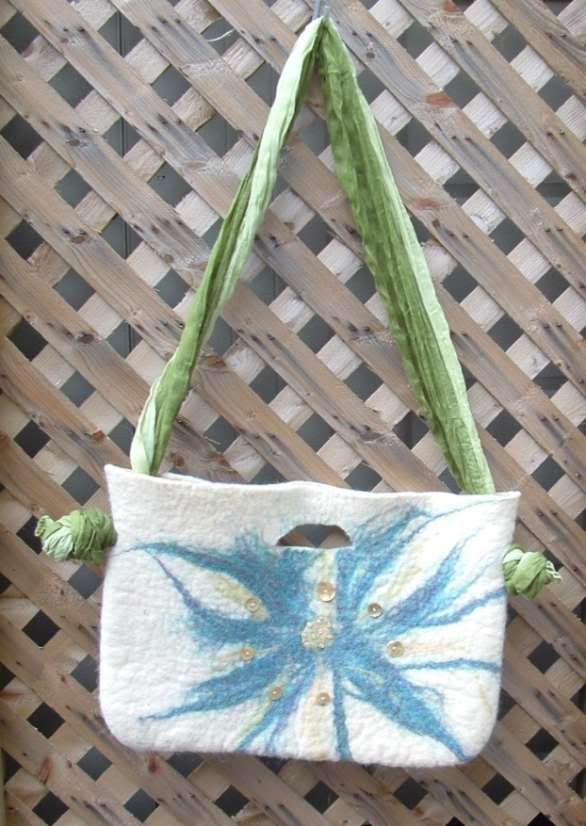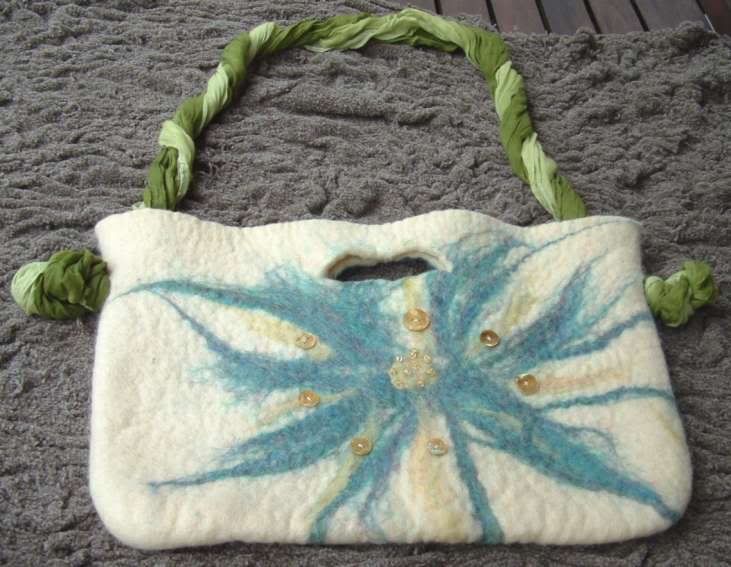 Fee
Title: Summer Bag
Dimensions: 15 x 10"
Technique & materials: Wet felted Corriedale - embellished with beads and buttons and scarf.
Date Created: started May 09 and finished July 2009
Artist: Fee
http://s494.photobucket.com/albums/rr310/mydogxena/Felting/?action=view&current=52ba1d80.pbw&t=1245168454
Jasmine
The mobile is made from feet felt that we made last month, gemstones, crystals, wood, glass and metal beads, rope supports made from friendship bands, bells, and of course the wood is gorse that we collected on our trip to Wales.
http://natureswhispers.blogspot.com/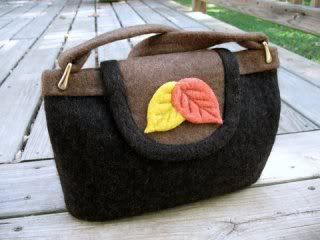 Minimizer
It measures about 11-1/2 inches wide by about 8 inches tall. The body of the bag is black natural Finnwool, needled over a foam rectangle. The trim around the bag top and the handle, along with some of the pattern are mushroom dyed Finnwool. There's some natural gray FW and lichen and plant dyed FW make up the rest of the pattern. The flap and handle and trims were needle felted and wet felted separately, attached by needling along with some hidden, reinforcement heavy thread stitching here and there. It closes with a magnetic snap. I added an extra "floor" by needling and wet felting a piece a bit larger than the bag base.
Feltfinland
Title:Experiment 1
Dimensions: 10x10cms
Technique & materials: White Finn wool base, leaf skeletons, white merino top layer - wet felted(carefully!)
Date Created:July 2009
Title:Experiment 2
Dimensions: 15x20cms
Technique & materials: Norwegian C1 wool, glass marbles - wet felted(with difficulty!)
Date created :July 2009
Artist: Amanda Heikkinen
Tess
Title: "D" is for Donkey.
Dimensions: 13 x 9 1/2 inches.
Technique and materials used: various wool fibre, tiny amount of silk, needle felted, canvas artist board, acrylic paints, beads and wood.
Artist: Tess
Date Created: finished 22 july 09
katekate78
Here is my Goblin and Dragonfly.
Kasey
judelicious
Title: 'That Special Occasion stationery'
Dimensions: 6 x A5 (approx) sheets
Materials and techniques used: Wet felted masham and silk cobweb felt, combined with paper pulp.
Date Created: 31st July 2009
Artist: Judelicions Felts
http://www.flickr.com/photos/judeliciousfelts/
MTRuth
Title: Jellyfish Lamp
Dimensions: 10" diameter, 20" tall
Materials and techniques used: Wet felted merino and Wensleydale locks, Machine embroidered with metallic thread, Tentacles machine needle felted with Wensleydale locks and eyelash yarn, Hand stitched to an acrlyic lamp shade.
Date Created: July 31, 2009
Artist: Ruth Lane