September Challenge is to create things that go together.
teriann
I guess I'll start out the "go together" challenge with a loose interpretation of the theme.
These guys are going on an adventure together.
Here they are on a recent trip to the Pt Betsie Lighthouse. Frankfort, Mi.
Title: Benzie Gnomes
Dimensions: 8" tall
Techniques & Materials Used: Needle Felted Wool and Alpaca
Date Created: August 2009
Artists Name: Teriann
http://www.tericanepa.com/
Feltfinland
Title - Group Hug!
Dimensions - between 2-4 inches fat and 3-6 inches long eye stalk!
Techniques & Materials Used - Needlefelted Finn and Norwegian C1 wool
Date Created - Spring /Summer 2009
http://www.feltfinland.com/
http://www.flickr.com/photos/feltfinland/
http://feltfinland.blogspot.com/
ksyushenka
So here is my set :-D
Title "Kalla"
Dimensions: Scarf ca. 100 x 20 cm
Flower ca. 17,0 x 7,5 cm
Techniques & Materials Used wet felting, wool, silk
Date Created summer 2009
http://de.dawanda.com/shop/ksyushenka
judelicious
Title: Who Says a Princess has to wear Organza??
Dimensions: Size 1 (12-18mths)
Materials & Techniques Used: (Inger will recognise these as she sent mot of these to me in the fibre swap, and converted me to 16micron merino, thanks Inger!!) Nuno felted over resist merino and silk reversible dress, with merino and silk wet felted on resist hat. Flower and cord decorations also wet felted.
Date Created: September 2009
Artist: Judelicious Felts
http://www.flickr.com/photos/judeliciousfelts/
Feltstruction
Title: Twins
Dimensions: 7" x 4 1/2"
Techniques & Materials Used: Needle felted white polyester. Put into a jellybean jar with salted tea.
Date Created: Finished Sept 22, 2009.
Artists Name:Feltstruction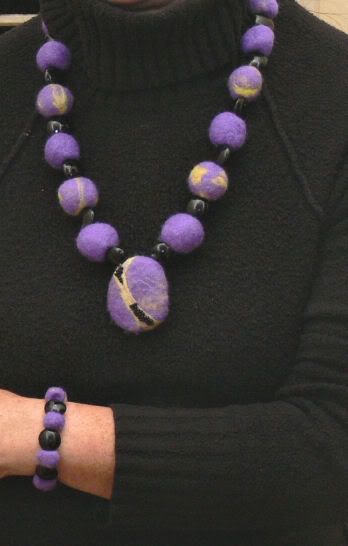 Tess
Title: Beads
Dimensions: Necklace has a 15 inch drop.
Materials Used: Pumice stone, glass beads, Merino wool.
Techniques used: I wet felted and embelished with tiny black seed beads the centre piece of Pumice from Mount Ruapehu (an active volcano) in the central North Island of New Zealand, then wet felted various sized beads using mauve and yellow toned merino wool, and created a necklace and bracelet.
Dated created: September 2009
Artist: Tess
zed
Title Feltunited
Dimensions aprox 10.5 x 10.5 inches each
Techniques & Materials Used wet felted with merino tops and dyed silk top, handspun and felted yarn
Date Created 15th and 17th September 09
Artists Name zed
http://www.flickr.com/photos/zedster01
http://feltbyzed.blogspot.com/
Shepherdess
Artist: Ann McElroy
Title: wool and silk hats
technique: wet felt over resist
materials: wool and hand dyed silk caps
Size: 22.5 hat size
Made: spring 09
http://www.shepherdsspringfarm.ca/