Lets go on a magical journey through the world of faeries and fantasy.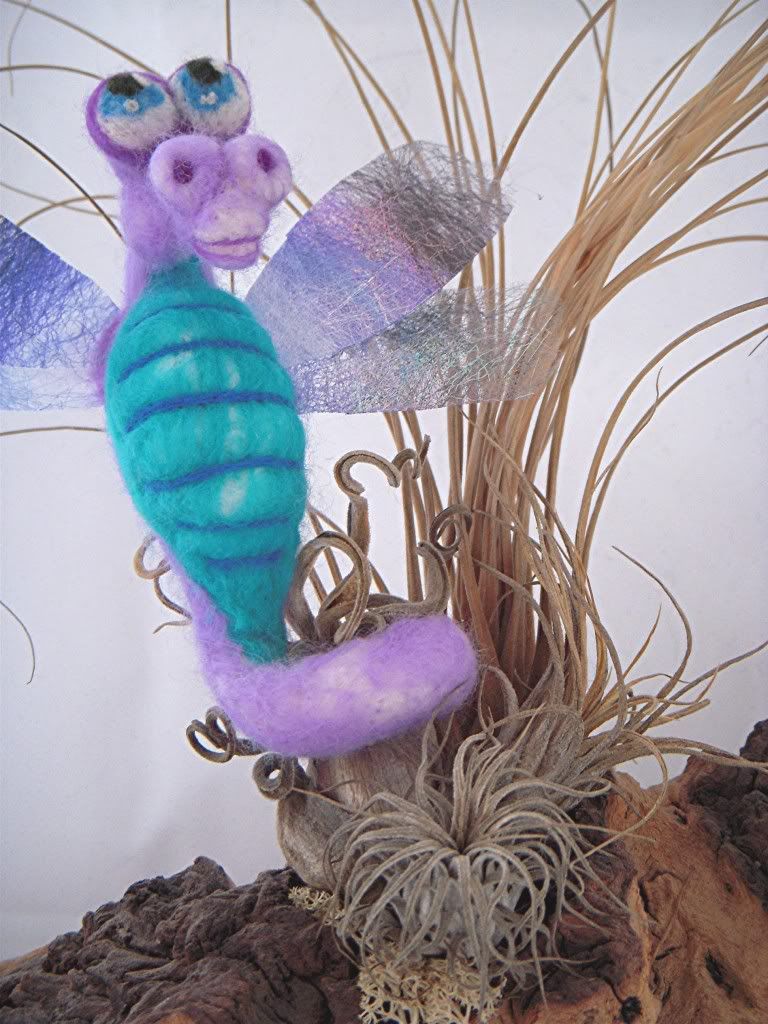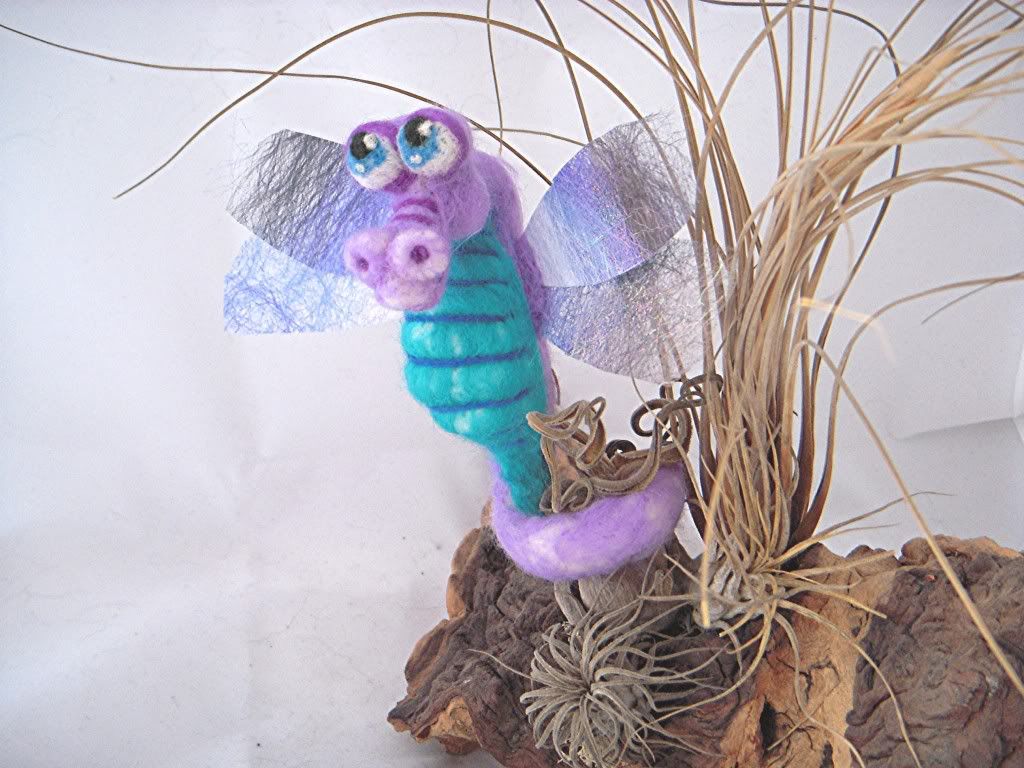 Ben Mcfuzzylugs
Title
Felix the Sea horse/ Dragonfly
Dimensions
Approx 6 inches (not the wooden prop)
Techniques & Materials Used
Needle felted onto a wire tail with Angelina wings
Date Created
2/11/2009
BenMcuzzylugs (Pam)
http://benmcfuzzylugs.blogspot.com/
The Enchanted World
Feltfinland
Title Not from this planet!
Dimensions Approx 8"/15-20 cms tall including pot
Techniques & Materials Used Needlefelted using Finn and Norwegian C1 wool, felted yarn
Date Created October -November 2009
Amanda Heikkinen
http://www.feltfinland.com/
http://www.flickr.com/photos/feltfinland/
http://feltfinland.blogspot.com/
Rosiewildwoman
I have a fascination with pods and find their life process from beginning to end a magical journey. The "Sprouting Pod" emerged as I played with the wool and I inserted the sprouts into a felted "taco like" shell and then added some beads and wire and attached the the creation to a colorful headband. It is a kick to wear. My inspiration also came from the "Fascinator Hats and Head pieces that I have been researching.
http://www.flickr.com/photos/wildwomancreations/collections/72157621745245215
kategreg
title : little elf (brooch)
Dimensions : 3 inches
Techniques & Materials Used :wool needle felting
Date Created : september 2009
http://katelovegreg.blogspot.com/
http://handmadebyvicky.blogspot.com/
Dunsire
My Nymph is now complete and she stands 14" or 35.5 cms high when standing. The Nymph and Robin are made from Merino tops and the forest floor is some wool fancy spun I bought by whim. I lay a piece of bought felt on a block of packing material and felted the forest floor onto that. The rocks are a mixture of 15 year old wool and some black and grey Merino.
http://www.flickr.com/photos/dunsire/
DooflinkyDolls
Name: Gilbert
Created: Sept 2009
Size: roughly 4" x 7"
Material: NZ Corriedale, small amount of Merino and Coopworth/Silk Noil Blend.
Joyce C.
http://dooflinkydolls.blogspot.com/
oddfae
Name: Handstand
Created: Nov 2009
Size: 6" tall
Material: NZ Corriedale, Merino roving
http://oddfae.blogspot.com/
http://www.oddfae.etsy.com/
brattyblueeyes
This is Zoad! And he is looking for love... XOXO
Title: Zoad
Dimensions:10 inches high
Techniques and Materials: Needle felted with N 1 wool
Date: November 2009
oiolin
Title: Dragons in love.
Dimensions: He is 8cm high, She's 7cm.
Techniques & Materials Used: Needle felting. Dyed wool.
Date Created: October 2009
Artists Name: oiolin (Maria Voznesenskaya)