January's Challenge is to use Cool Colors,
Felt something with the cool side of the color wheel - blues, purples, dark greens etc.
ingermaaike1


Title Purple deep winter slippers
Dimensions size 37 eu
Techniques & Materials Used wetfelting and nuno felting around a resist
Date Created 09-01-2010
Artists Name IngerMaaike



Jasmine


Title: Floating in the Moonlit Sky
Dimensions: 20cm x 25cm
Technique: Making very loosely felted prefelt. When pre-felt dry, peel it in half carefully to make an even finer pre-felt. Needle stitch the detail into the pre-felt. Lay picture down on bubble wrap. Added layer of silk nuno gauze to the top (to enhance snowy feel to the picture). Nuno felted.
Materials: White merino, pre-dyed 70% merino/30%silk blended wool, silk nuno gauze, felting needle.
Date made 12/1/10
http://natureswhispers.blogspot.com/



Living Felt
Title: Ocean Nuno Felt Scarf
Dimensions: 6" x 53"
Techniques & Materials Used: Nuno Felt, Merino + Merino Silk Blend + Silk Chiffon Scarf
Date Created: 01/2010
Modeled by my husband, Rodney Gene.
Created by: Marie Spaulding
http://feltingsupplies.livingfelt.com/
http://livingfelt.wordrpress.com
MTRuth
Title: Burgundy Slippers
Dimensions: size 9
Techniques & Materials Used: Merino and silk; wet felted around a resist
Date Created: 01/16/2010
Artists Name: Ruth Lane
http://ruthsfiberphotos.blogspot.com/
http://www.purplepomegranate.com/
coutureuse


Title : Blue CD
Size : CD
Technique : felt + silk + rayon scarf punched with embellisher + embelissements (beads, hand dyed lace)
Date : 18th january 2010
Artist : Coutureuse
http://www.flickr.com/photos/coutureuse/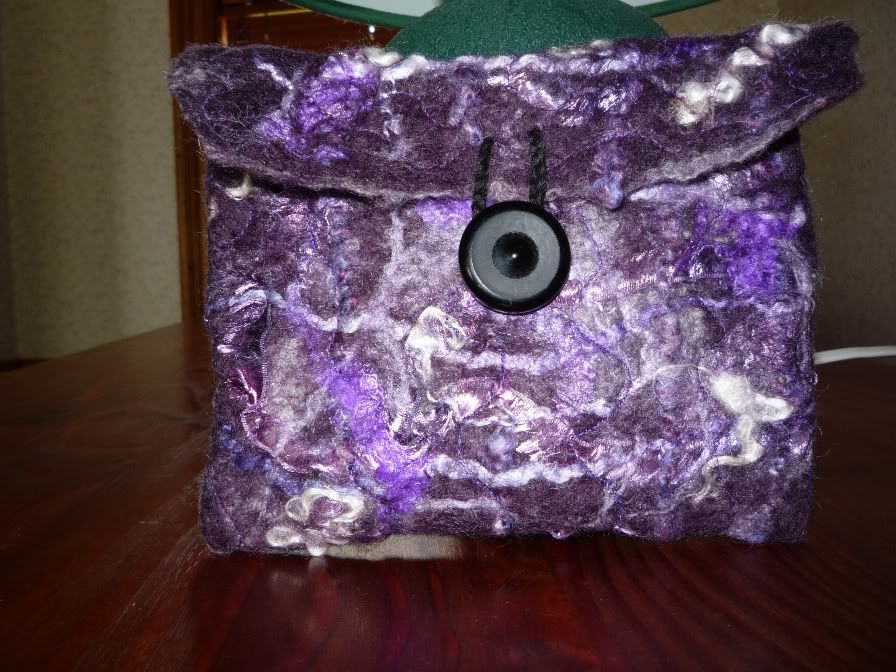 Tess
title ;Your favourite colours
dimensions: 7 x 6 1/2.
technique; Wet felted with machine embroidery
Materials, Merino, fancy wool yarn, kid Mohair locks from my herd, silk, black plaited cord and vintage button closure.
date finished 22/1/10.
karenrao


Summer Wave
152w x 72h cm approx
Freehanging Wall Art using wet felting and needle felting
May 2009
Karen Rao
http://karenrao.com/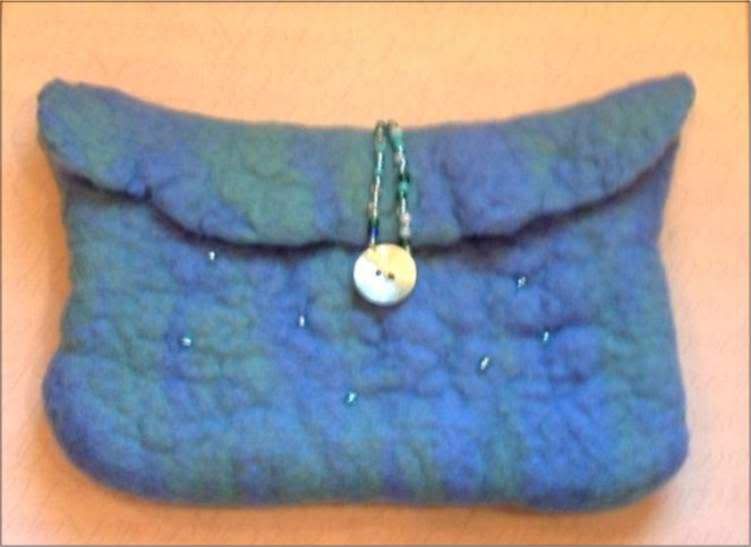 Fee
Title: Small Purse
Dimensions: 10 x 6 inches
Techniques & Materials Used: Corriedale and Merino, wet felted
Date Created: Jan 22 / 2010
http://s494.photobucket.com/albums/rr310/mydogxena/Felting/?action=view&current=52ba1d80.pbw&t=1245168454

loulou
Title The graduate
Dimensions about 12 inches/30cm
Techniques & Materials Used wet/neddle felting
Date Created may 2009
material merino
artist name loulou
MirlyElfie
Title: hat
size: approx. 12"
materials: merino
method: wet felted around fabric resist
artist: Mirly
started and completed 1/29/10
http://www.flickr.com/photos/mirlyelfie
Feltfinland
Title: Deep sea
Dimensions: 70cms x 50cms
Techniques & Materials Used: Wet felted using Finn wool and Norwegian C1 for the base, design using merino, silk, yarn, wool neps, finn and gotland locks, felt beads from Ruth!
Date Created: 30cJanuary 2010
Artist Amanda Heikkinen
http://www.feltfinland.com/
http://www.flickr.com/photos/feltfinland
http://feltfinland.blogspot.com/
Shepherdess


Title: post card and 2 trading cards
Dimensions: 4x6 and 2.5x3.5
Techniques & Materials Used:wet felting, machine felting, and hand stitching. felt, silk and thread
Date Created:January 2010
Artist: Ann McElroy
http://www.shepherdsspringfarm.ca/